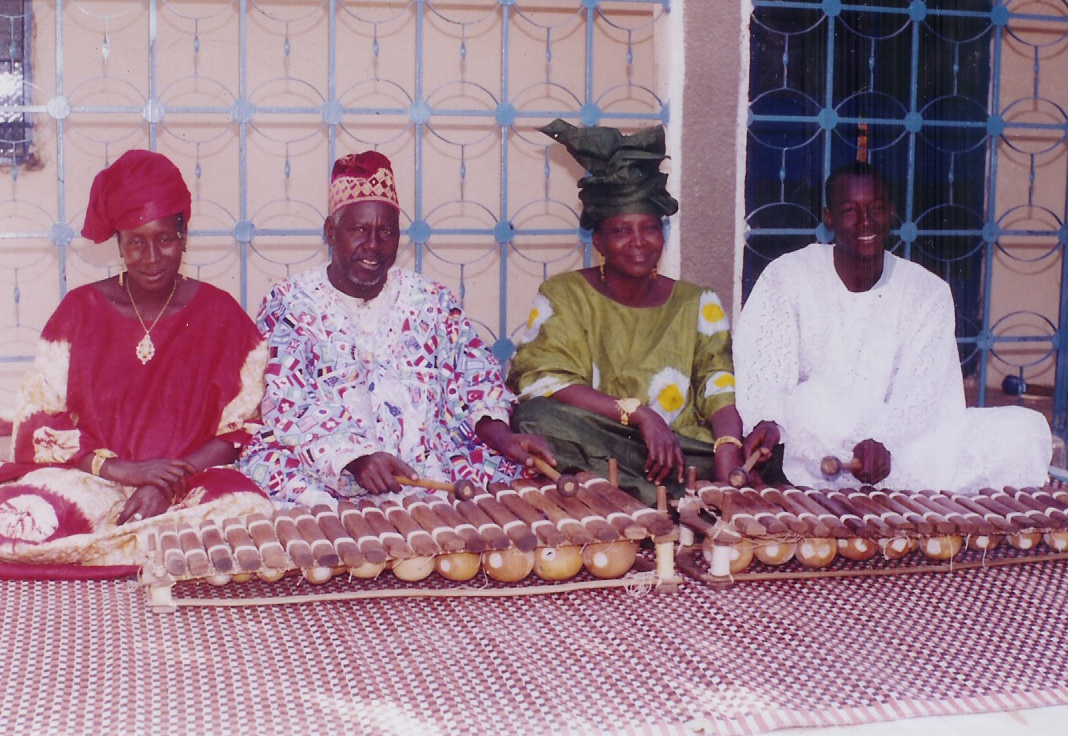 mandebala.net seeks to promote and enrich both independent and guided study of the Mande bala and of Mande music in general.
In the menu on the left, named pieces from the bala repertory are organized alphabetically. (If not all of the menu items are visible, it may be necessary to zoom in or out. On most browsers this is done by holding down the "Ctrl" key as you roll your mouse's scroll wheel up or down. You can also hold "Ctrl" [or, on a Mac, "command"] and press +, -, or 0. The site is not yet optimized for tablets or smartphones.) Hovering over each piece, sub-menu tabs appear. Clicking on these tabs will bring you to the corresponding page. For explanations of each of the sub-menu tabs, click on the following links:
Discography; References; Songs; Transcriptions; Videos
mandebala.net was developed in partial fulfillment of the requirements for my PhD program. Serving as a prerequisite to dissertation research, the site stands in the place of one of the program's mandatory comprehensive examinations. (My research deals with West African xylophone pedagogy and it is with the Mande bala student in mind that the information herein is presented.) I continue to develop the site, even though I have already been granted a "pass with distinction" for the exam.
My main interest is in bala repertory, but many bala pieces are commonly referred to using the names of the jembe rhythms with which they are most regularly associated. Thus, many of the pieces in this list are perhaps more directly related to the jembe's repertory, but have been included here because of their relationship with the bala's repertory. Similarly, because the bala shares much with the repertory of the other Mande jeli instruments, information is presented for pieces that may have originally been played on—or are most commonly associated with—the kora, the koni, or the guitar. Though not every piece currently bears a complete set of five sub-menu tabs, eventually (and insofar as is possible), I do hope to provide comprehensive information for all of the pieces.
In addition to the repertory tabs, partly in order to facilitate an increased contact between bala students and bala teachers around the world, I have also begun developing a kind of "directory of balafolalu." (Balafolalu is the Maninkakan plural of balafola [one who plays the bala.]) This directory, sortable by column header, is fully integrated with the discography tabs, the songs tabs, and the sources appendix. (See especially behind the "show" toggle to the right of the section headers on the sources page.) Wherever possible, I try to include biographical and contact information for each balafola, additionally compiling YouTube videos, discographies, and videographies, and providing external links to relevant websites.
I am always happy to receive feedback on this project and do update regularly so please feel free to contact me if you have any questions, comments, or concerns. And to the many people who have in one way or another helped me with the site's development and promotion, please accept my most heartfelt thanks:
Mariana Almaguer, Christian Archer, Scott Arnold, Stephane Barbier, Julien Barré, Eugene Belianski, Laurent Berté, Louise Brind'Amour, Alexis Bureau, Naby "Coyah" Camara, Naby "Eco" Camara, Yadi Camara, Assetou Conde, Tony Cope, Graeme Counsel, Lansine Diabate, Sory Diabate, Kassoum Diamoutènè, Famoro Dioubate, Diandree Dukes, Katenen "Cheka" Dioubate, Missia Saran Dioubate, Trevor Ferrier, Carlos Garcia, Juanillo "Guedom" Haro Urquízar, Stuart Hall, Matthew Hill, Darrin Jackson, Debbie Johnson, Oscar Resendiz Justiniano, Doussou Kaba, Amara Kanté, Ina Fatoumata Kébé, Sylvain Leroux, Roberty Long, Harald Loquenz, Michael Marcuzzi, Mark McGettrick, Anna Melnikoff, Joona Meriläinen, Sharon Millman, Daniel Murphy, Maxime Piazza, Nicolas Platen, Reggie Ross, François Séguin, Robert Simms, Sławek, Casey Sokol, Akra Soumah, Mawdo Suso, Yusupha Suso, Heather Sweeney, Christian Taulelle, Joanne VanDeusen, Dave White, Stanley White, Robert Witmer, Louise Wrazen, and YouTube users archibald, Domantas M, garvin80, ngoniba, and Torchy56revisited, to name a few.
Todd Martin
PhD, Ethnomusicology
Winnipeg, Canada
tgmartin@yorku.ca